State Bank Anywhere - App Redesign

A redesign of State Bank of India's Android app State Bank of India Anywhere
State Bank Anywhere
Design Concept by Subhankar Das
2017
State Bank of India's Anywhere app is a popular choice among users to get their basic banking tasks accomplished on the go. The app however, does not come across as very polished in terms of visual design. It does not comply to a particular design standard or language. Furthermore, as a regular user, I feel that the flow of essential tasks and overall usability of the app could be adjusted for a more streamlined user experience.

Problems with the Original Design
It is common to see banking apps adopt the interface patterns from their desktop counterparts. Some clear drawbacks of this practice are that the apps are not always optimized for the best experience. Operating system specific features and UI principles which give native apps a seamless, unified experience tend to be missing.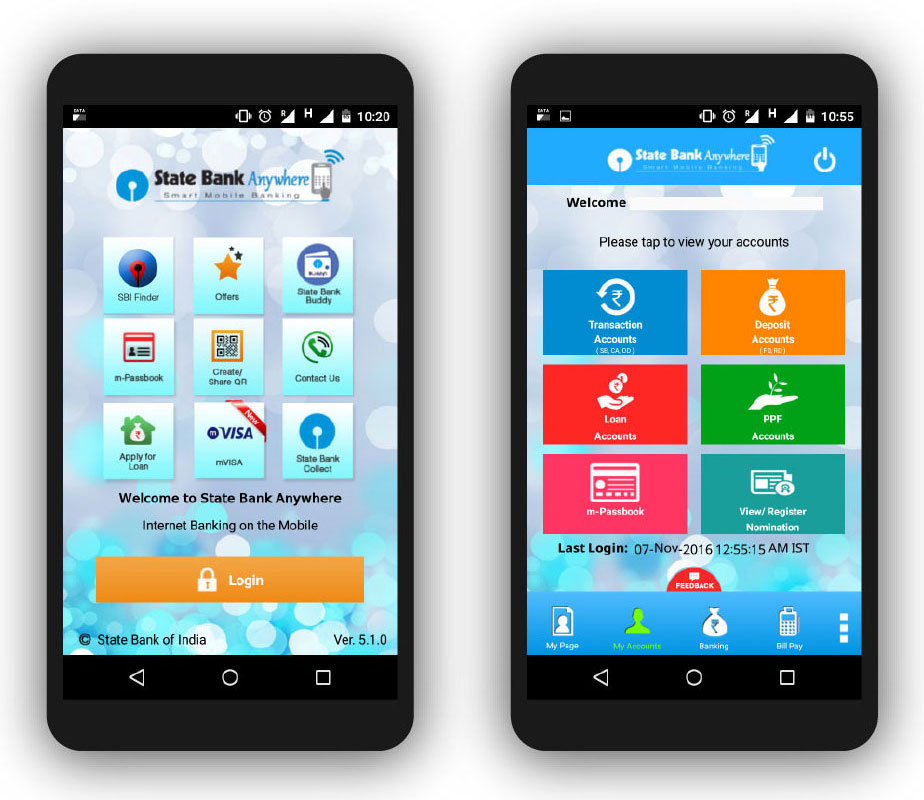 Too many elements
The current app presents the user with too many options at a time. The login screen is largely occupied by links to non-essential add-ons, brand ads and companion apps.
Distracting visuals
Visuals in the existing app seem disjointed and does not provide visual continuity. A textured background has been used for all screens which distracts attention from foreground elements. Icon style is inconsistent and there are multiple instances of low-resoution image usage.
Navigation is confusing
In-app navigation feels confusing at times as a result of too many screen elements. The main navigation bar does not stand out and the choice of colours used makes it difficult to read.

Flow of tasks
Acces to certain essential tasks such as checking balance, mini statement, funds transfer, etc. could be streamlined. Current design requires a few extra taps to get to the desired information.
Modernize the app interface. Create a consistent design language for the app.
Improve the usability and flow of basic, core tasks.

Optimize the flow of essential tasks to involve minimum number of steps.

Add some delight factor to the user experience of the app.

Mapping Problems Information Architecture & Visual Design
Mapping Problems
Task Flow Analysis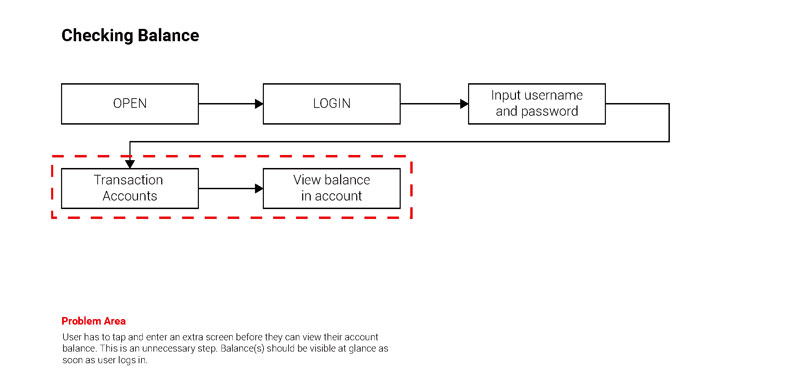 The Redesign
Wireframes
The Redesign
Visual Design
The Redesign
New Information Architecture & User Interface
Interactive Prototype
Try Me!